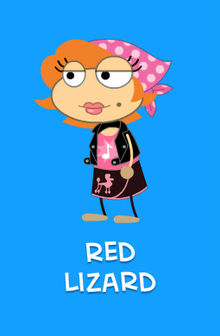 This is an outfit that looks like a really cute, good girl type from the 50s!
Go to Monster Carnival and copy the poodle skirt from the little girl by the house of mirrors.
Get the leather jacket from the ferris wheel guy
Use [1] that link and go to backlot island.
Get the pink headscarf from the girl outside the movie theater looking at the sidewalk. Make sure to push save.
Go to Shrink Ray using the same link and copy the little triangle bang thing on CJ's mom. Push Save.
Go to home island. For some reason the hair is grey but that is only in the new islands.In old islands and avatar studio it will be seen as your chosen color.
Dye your hair whatever color, and your skin pale. I chose ginger.
Pull the lever of outfits in New You until you get just the plain t-shirt or the pink shirt with the music note.
Generate pink lips.