Amy Pond



What You Need
Cost
Free
Hat
None
Hair
Down, Red
Top
Striped Shirt, Brown Jacket
Bottoms
Jeans
Skin Tone
Pale
Lips
Red Glossy Lipstick
Other Accesories
Glasses
Are you a fan of Doctor Who? Do you like the companion Amy Pond? If so, this outfit is the perfect one for you! Follow the steps below to dress as The Girl Who Waited!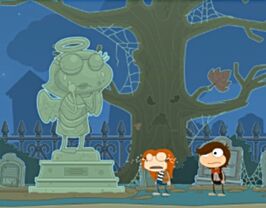 How to Get:
Hair:
Go to Cryptids Island and run right until you see the woman dressed in black. Customize her hair.
Go to Reality TV Island and customize the bangs from the girl with the braid.
Dye your hair orange with a little brown.
​Clothes:
Go to Super Power Island and customize the shirt from one of the prisoners.
Get the jacket from the man shaking salt in Ghost Story Island.
Get the pants from a randomly generated Poptropican.
Extras:
Get the glasses from the professor in Time Tangled Island. (Optional)
​Mouth:
Get the Biker Costume from the store and customize the mouth.
Skin:
Dye your skin pale.
​Yow-za! You are now Amy Pond!