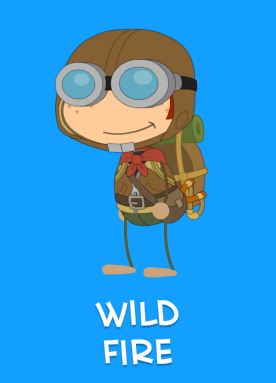 Your plane's going down fast...But at least you've got the perfect pilot look to show off in an epic crash landing! Dig your way out of the rubble and prepare to explore a brave new world in this spunky aviator attire! Why the slingshot? Well, you just never know...
Wardrobe
[
]
Go to Game Show Island, customize the backpack from the man living in the hut outside the factory
Get the smile from the girl wearing blue sitting in the waiting line on Night Watch Island
In Poptropicon Episode 1: Line Forms Here, find the scarf/backpack straps and fastened aviator cap on the steampunk girl waiting in line for the restroom, but only after repairing her jetpack
Go to Monster Carnival Island, customize the pants/slingshot from the boy walking around with his sister
Get the freckles/sideburns from Christopher in Vampire's Curse
Customize the hair from Hippie Harry on Reality TV Island (for when you're not wearing the aviator cap with the outfit)
Find the shirt/jacket and unfastened aviator cap on the pilot in Nabooti
Go to Wild West Island, customize the belt/sachel from the horse-riding messenger
Variations
[
]
This outfit is easy to modify, whether you want to add a few minor changes or drastic alterations - and best of all, it goes good on both male and female Poptropicans! Here are a few suggestions to help you get started, if you can't think of anything just pick one of these! The "Expert Aviator" currently has three variations - the goggled one pictured above, a very similar goggle-less version, and a completely capless variant.