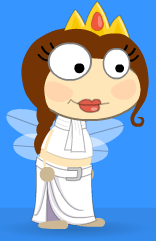 This fairy princess costume is kind of a complicated costume, but it is also pretty easy.
Hair, Skin, & Cosmetics
Edit
Hair: You can use any long hair, but I used the hair from one of the girls in front of the mall on Night Watch Island.
Bangs: Use the Fairy Queen's bangs. (75 credits.)
Hair Color: Dye your hair either brown or blonde.
Skin Tone: Use a paler shade of peach.
Lips: On Poptropicon Ep. 2, inside of the Demo Hall, there is a girl with short hair. You need her lips, but they are not costumizable. What you need to do is go in your items, and click on a costume. Then costumize an item from it, but do not X out. Instead click on the picture of a person and an arrow on the bottom left. Then you can get the girl's lips. If this glitch no longer works, use the similar lips from the Biker.
Shirt: The shirt you can find in the New You.
Skirt: The skirt, you can get from the mannequin on the right in the Exhibit Hall on Poptropicon Ep. 2.
Accessories
Edit
Scarf: This you can get from the steampunk girl on the roof in Poptropicon Ep. 1.
Wings: Use the wings from the hippie fairy in the Theater with the same process detailed for the lips.
Finally, you are finished!