Would you like to learn how to become a purr-fect cat on Poptropica? If so, this catty costume is for mew!
Hair, Skin, & Cosmetics
[
]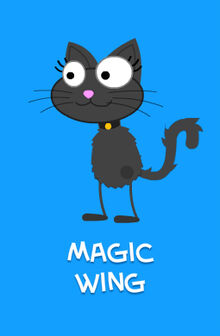 Hair: Use the cat ears customizable from CatDummy1 in plce of a normal hairstyle.
Bangs: None!
Hair Color: Dark gray.
Skin Tone: The same shade of gray as your hair.
Mouth: Use the ASG glitch and save *cloud*41's costume to your closet. Revert back to your normal character and customize the mouth.
Outfit
[
]
Top: The top is found on the Minotaur on the far west side of Mythology Island.
Bottom: A former god named Pan resides in the Minotaur's labyrinth, he is wearing furry pants. Customize those.
Accessories
[
]
Nose: The nose is also found on CatDummy1's costume.
Collar: Next to the train station in Diamond Plains on Wild West Island, there a lady in pink and black wearing this collar. Customize it.
Tail: Friend grand-guy-15, and customize the tail from his outfit.