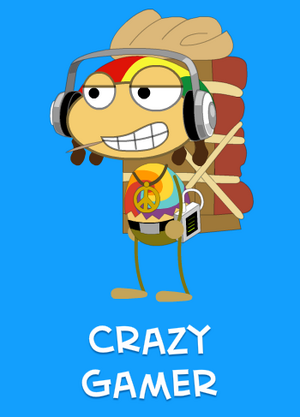 Here's a nice colorful look for any dirty-kneed adventurer setting out to complete their next island - it's fun, free, and, best of all, unisex!
Wardrobe
[
]
The Rastafarian beanie and dreadlocks can be found on any randomly generated Poptropican, as can the brown pants and black belt
The headphones and CD player can be customized from the boy standing just outside the common room on the main street of Lunar Colony Island
The ripped tie-dye shirt and golden peace sign necklace can be obtained by customizing "Hippie Harry" on Reality TV Island
The toothpick can be customized from the guy wearing the "Packman" shirt camping out beneath Fiona's mansion on Ghost Story Island
The backpack can be found on the Sherpa in the Himalayan mountains on Cryptids Island
Variations
[
]
As I mentioned before, this is a unisex outfit, meaning that it looks good on both male and female Poptropicans! And as different genders have different tastes, there are plenty of different mix and match options for this look! Here are just a few for starters, see what kind of cool combos you can create!