Today I will show you how to make Elsa, the queen of Arendale. This is the most accurate Elsa on this wiki.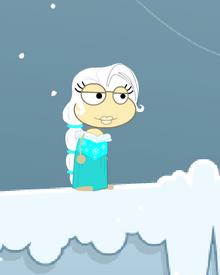 Step One
You will need to go to the ASG Machine  and enter the ASG username as Ice_Princess-ASG. You will now be wearing a pretty frosty dress when you log in again. 
Step Two
Go to New You and make your skin pale and your hair basically white
Step Three.
Go to Mythology Island and get pale lips from the girl and her blue long skirt.
Step Four
Get the braid I have in the pic (I don't know where it comes from I found it in the clubhouse) or the surfer girl braid in Poseidon's beach.
Step Five
Get curly bangs from the hippie girl in the theater of poptropicon episode 2. Now you can let it go because you have Elsa!